Written by mypchell.com
Please Note: This update is part of a series, The Seven Deadly Sins of Email, written by Squeezebox. This update includes the 3rd instalment (of seven).

If this sin wasn't being committed all the time, there wouldn't be a Deadly Sin #2. If you send messages with all of the addresses just added into either the 'To' field or the 'CC' field, you are sharing those addresses with everybody you send it to. This is the worst email sin of all!
Note: Click on any image for a larger view of that particular image.
DEADLY SIN #3 – SHARING YOUR ADDRESS BOOK WITH THE WORLD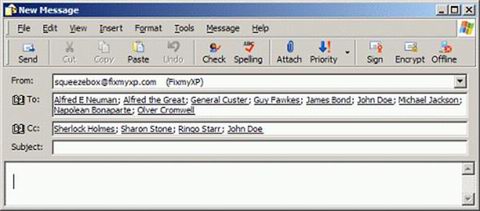 Don't just add all the addresses into the To or CC fields.
Use the BCC Field
By sending messages BCC (Blind Carbon Copy) to multiple addresses, the list of addresses is not included for the recipients. It requires a few extra clicks of the mouse, but what price privacy?
Here's how to do it:
Click on the To button, which is next to the To field

This will bring up your Address Book and all the options for where to place the addresses, including the BCC field which is normally hidden.

Select the addresses you want to include and click the Bcc button for each one added to the list.

When you've finished adding addresses, click on the 'OK' button.

Finish off your message and send it.

Recipients will receive their copy of the message with "undisclosed recipients" showing in the 'To' field. No other addresses will be broadcast for all to see.
Get Clever – Use Mailing List and Alias Addresses
If you want to find out how to set up a mailing list and use an alias of your own address, then have a look at the article Using Mailing Lists.
You will be able to send to multiple address mail-outs that show something like "My friends" in the 'To' field – and still not disclose all the addresses to everybody.
---
---
Subscribe to this comment's feed