| | |
| --- | --- |
| | About a year ago now, I wrote an article on my old site, FixMyXP, called 99 Useful Run Commands. Over the course of the year, this article has brought in an enormous amount of traffic and really put FixMyXP on the map, over 800,000 hits! This article even has been plagerized numerous times (other websites copying and pasting into their websites, and claiming it as their own)...(Continued) |
... Because there was so much interest in this topic, I revisited it a few times (raising the total number of Run Commands from 99 to 113). I felt it was time again, to update. I was suprised that I was able to add an addtional 43 more Run Commands, bringing the total to 156! I hope you enjoy!
11/27/05
Added 16 Additional Run Commands
Removed 2 Duplicates.
Total : 113 Run Commands
3/18/06
Added 2 Additional Run Commands
Removed 1 Duplicate.
Total : 114 Run Commands
3/27/06
Added 42 Additional Run Commands,
Total : 156 Run Commands
Do you use the Run feature in Windows XP? For most, this feature remains unused (or rarely used). Why is that? Well, First off nearly all of the Run Commands Correspond to a particular Control Panel Item or a Utility, Tool or Task that can be accessed through Windows. There are, however, tools and utilities that I bet you never knew you had that can be accessed through the Run feature. The main reason most people don't use the Run feature is because they don't know the Commands. So, to solve that problem, I decided to put together the following listing, which lists 99 Run Commands and what they correspond too...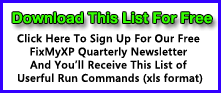 | To Access… | Run Command |
| --- | --- |
| Accessibility Controls | access.cpl |
| Accessibility Wizard | accwiz |
| Add Hardware Wizard | hdwwiz.cpl |
| Add/Remove Programs | appwiz.cpl |
| Administrative Tools | control admintools |
| Adobe Acrobat (if installed) | acrobat |
| Adobe Designer (if installed) | formdesigner |
| Adobe Distiller (if installed) | acrodist |
| Adobe ImageReady (if installed) | imageready |
| Adobe Photoshop (if installed) | photoshop |
| Automatic Updates | wuaucpl.cpl |
| Bluetooth Transfer Wizard | fsquirt |
| Calculator | calc |
| Certificate Manager | certmgr.msc |
| Character Map | charmap |
| Check Disk Utility | chkdsk |
| Clipboard Viewer | clipbrd |
| Command Prompt | cmd |
| Component Services | dcomcnfg |
| Computer Management | compmgmt.msc |
| Control Panel | control |
| Date and Time Properties | timedate.cpl |
| DDE Shares | ddeshare |
| Device Manager | devmgmt.msc |
| Direct X Control Panel (if installed)* | directx.cpl |
| Direct X Troubleshooter | dxdiag |
| Disk Cleanup Utility | cleanmgr |
| Disk Defragment | dfrg.msc |
| Disk Management | diskmgmt.msc |
| Disk Partition Manager | diskpart |
| Display Properties | control desktop |
| Display Properties | desk.cpl |
| Display Properties (w/Appearance Tab Preselected) | control color |
| Dr. Watson System Troubleshooting Utility | drwtsn32 |
| Driver Verifier Utility | verifier |
| Event Viewer | eventvwr.msc |
| Files and Settings Transfer Tool | migwiz |
| File Signature Verification Tool | sigverif |
| Findfast | findfast.cpl |
| Firefox (if installed) | firefox |
| Folders Properties | folders |
| Fonts | control fonts |
| Fonts Folder | fonts |
| Free Cell Card Game | freecell |
| Game Controllers | joy.cpl |
| Group Policy Editor (XP Prof) | gpedit.msc |
| Hearts Card Game | mshearts |
| Help and Support | helpctr |
| HyperTerminal | hypertrm |
| Iexpress Wizard | iexpress |
| Indexing Service | ciadv.msc |
| Internet Connection Wizard | icwconn1 |
| Internet Explorer | iexplore |
| Internet Properties | inetcpl.cpl |
| Internet Setup Wizard | inetwiz |
| IP Configuration (Display Connection Configuration) | ipconfig /all |
| IP Configuration (Display DNS Cache Contents) | ipconfig /displaydns |
| IP Configuration (Delete DNS Cache Contents) | ipconfig /flushdns |
| IP Configuration (Release All Connections) | ipconfig /release |
| IP Configuration (Renew All Connections) | ipconfig /renew |
| IP Configuration (Refreshes DHCP & Re-Registers DNS) | ipconfig /registerdns |
| IP Configuration (Display DHCP Class ID) | ipconfig /showclassid |
| IP Configuration (Modifies DHCP Class ID) | ipconfig /setclassid |
| Java Control Panel (if installed) | jpicpl32.cpl |
| Java Control Panel (if installed) | javaws |
| Keyboard Properties | control keyboard |
| Local Security Settings | secpol.msc |
| Local Users and Groups | lusrmgr.msc |
| Logs You Out Of Windows | logoff |
| Malicious Software Removal Tool | mrt |
| Microsoft Access (if installed) | msaccess |
| Microsoft Chat | winchat |
| Microsoft Excel (if installed) | excel |
| Microsoft Frontpage (if installed) | frontpg |
| Microsoft Movie Maker | moviemk |
| Microsoft Paint | mspaint |
| Microsoft Powerpoint (if installed) | powerpnt |
| Microsoft Word (if installed) | winword |
| Microsoft Syncronization Tool | mobsync |
| Minesweeper Game | winmine |
| Mouse Properties | control mouse |
| Mouse Properties | main.cpl |
| Nero (if installed) | nero |
| Netmeeting | conf |
| Network Connections | control netconnections |
| Network Connections | ncpa.cpl |
| Network Setup Wizard | netsetup.cpl |
| Notepad | notepad |
| Nview Desktop Manager (if installed) | nvtuicpl.cpl |
| Object Packager | packager |
| ODBC Data Source Administrator | odbccp32.cpl |
| On Screen Keyboard | osk |
| Opens AC3 Filter (if installed) | ac3filter.cpl |
| Outlook Express | msimn |
| Paint | pbrush |
| Password Properties | password.cpl |
| Performance Monitor | perfmon.msc |
| Performance Monitor | perfmon |
| Phone and Modem Options | telephon.cpl |
| Phone Dialer | dialer |
| Pinball Game | pinball |
| Power Configuration | powercfg.cpl |
| Printers and Faxes | control printers |
| Printers Folder | printers |
| Private Character Editor | eudcedit |
| Quicktime (If Installed) | QuickTime.cpl |
| Quicktime Player (if installed) | quicktimeplayer |
| Real Player (if installed) | realplay |
| Regional Settings | intl.cpl |
| Registry Editor | regedit |
| Registry Editor | regedit32 |
| Remote Access Phonebook | rasphone |
| Remote Desktop | mstsc |
| Removable Storage | ntmsmgr.msc |
| Removable Storage Operator Requests | ntmsoprq.msc |
| Resultant Set of Policy (XP Prof) | rsop.msc |
| Scanners and Cameras | sticpl.cpl |
| Scheduled Tasks | control schedtasks |
| Security Center | wscui.cpl |
| Services | services.msc |
| Shared Folders | fsmgmt.msc |
| Shuts Down Windows | shutdown |
| Sounds and Audio | mmsys.cpl |
| Spider Solitare Card Game | spider |
| SQL Client Configuration | cliconfg |
| System Configuration Editor | sysedit |
| System Configuration Utility | msconfig |
| System File Checker Utility (Scan Immediately) | sfc /scannow |
| System File Checker Utility (Scan Once At The Next Boot) | sfc /scanonce |
| System File Checker Utility (Scan On Every Boot) | sfc /scanboot |
| System File Checker Utility (Return Scan Setting To Default) | sfc /revert |
| System File Checker Utility (Purge File Cache) | sfc /purgecache |
| System File Checker Utility (Sets Cache Size to size x) | sfc /cachesize=x |
| System Information | msinfo32 |
| System Properties | sysdm.cpl |
| Task Manager | taskmgr |
| TCP Tester | tcptest |
| Telnet Client | telnet |
| Tweak UI (if installed) | tweakui |
| User Account Management | nusrmgr.cpl |
| Utility Manager | utilman |
| Windows Address Book | wab |
| Windows Address Book Import Utility | wabmig |
| Windows Backup Utility (if installed) | ntbackup |
| Windows Explorer | explorer |
| Windows Firewall | firewall.cpl |
| Windows Magnifier | magnify |
| Windows Management Infrastructure | wmimgmt.msc |
| Windows Media Player | wmplayer |
| Windows Messenger | msmsgs |
| Windows Picture Import Wizard (need camera connected) | wiaacmgr |
| Windows System Security Tool | syskey |
| Windows Update Launches | wupdmgr |
| Windows Version (to show which version of windows) | winver |
| Windows XP Tour Wizard | tourstart |
| Wordpad | write |
---